Latest News
Appreciation for Our Outgoing Club President and Welcoming Our New Club President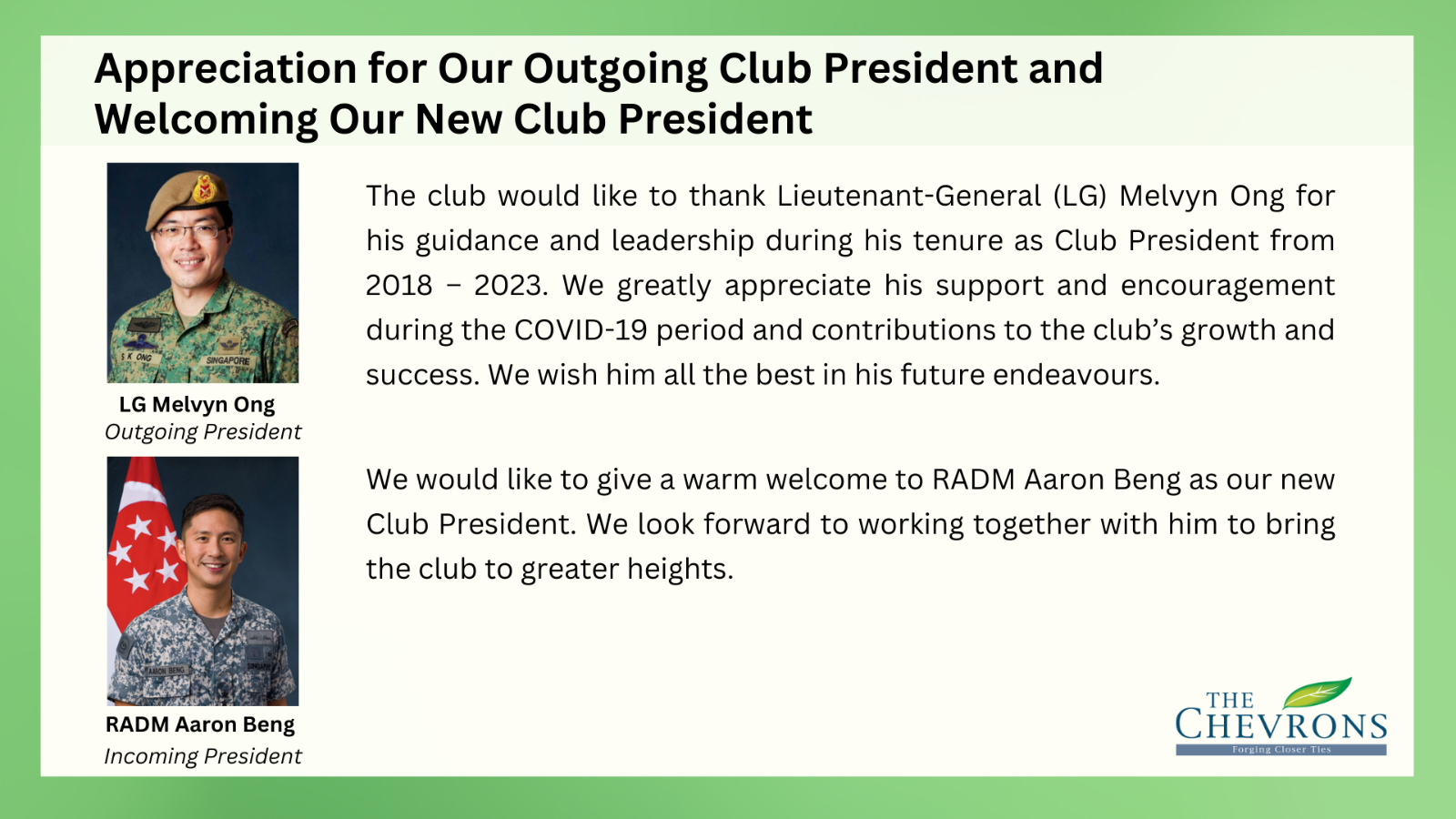 The club would like to thank Lieutenant-General (LG) Melvyn Ong for his guidance and leadership during his tenure as Club President from 2018 – 2023. We greatly appreciate his support and encouragement during the COVID-19 period and contributions to the club's growth and success. We wish him all the best in his future endeavours.

We would like to give a warm welcome to RADM Aaron Beng as our new Club President. We look forward to working together with him to bring the club to greater heights.

---
THE CHEVRONS Newsletter (Apr - Jun 2023)
Click on the link below to view the latest issue of THE CHEVRONS Newsletter (Apr - Jun 2023):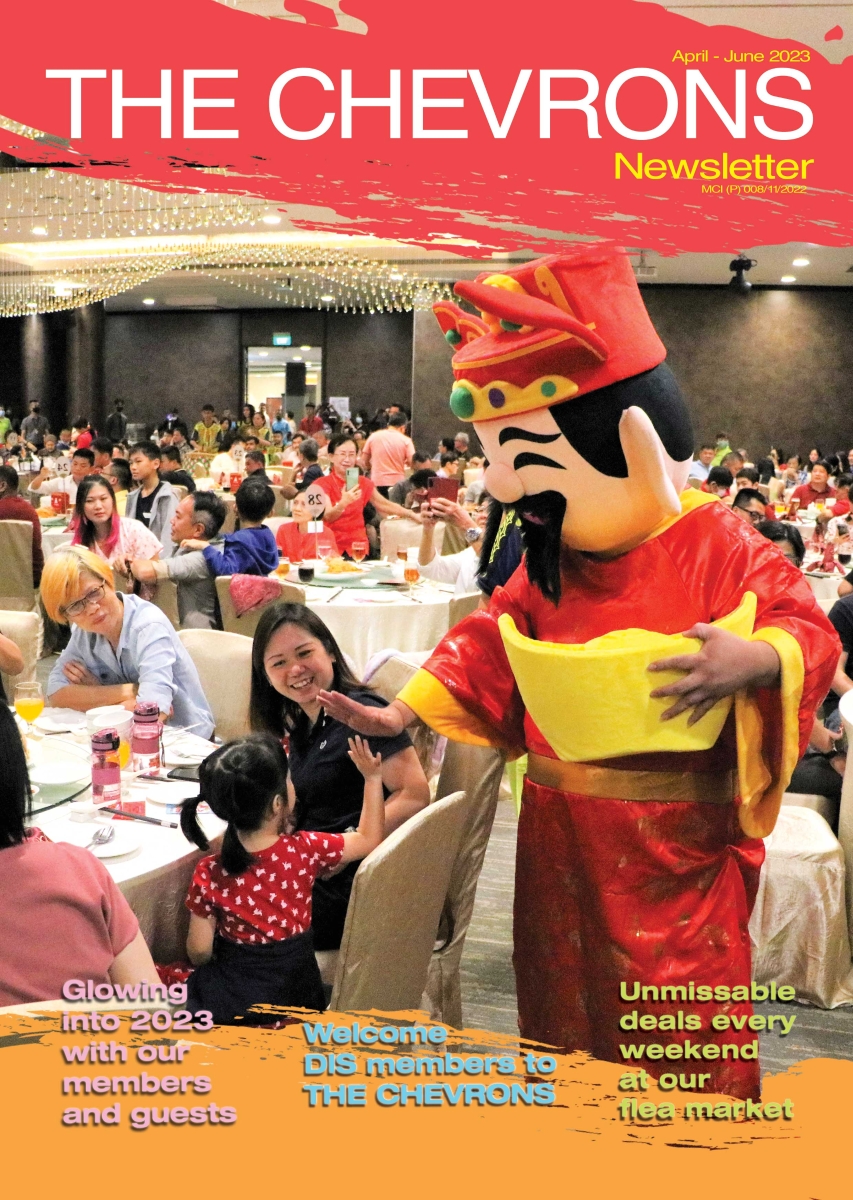 THE CHEVRONS Newsletter (Apr - Jun 2023)
---
THE CHEVRONS Annual Report FY 2021/22
Click on the link below to view THE CHEVRONS Annual Report FY 2021/22
THE CHEVRONS Annual Report FY 2021/22
---
THE CHEVRONS is now on Telegram!
THE CHEVRONS has officially launched our Telegram channel!
Join us today by scanning the QR code below or click here to get first hand updates on our promotions and events.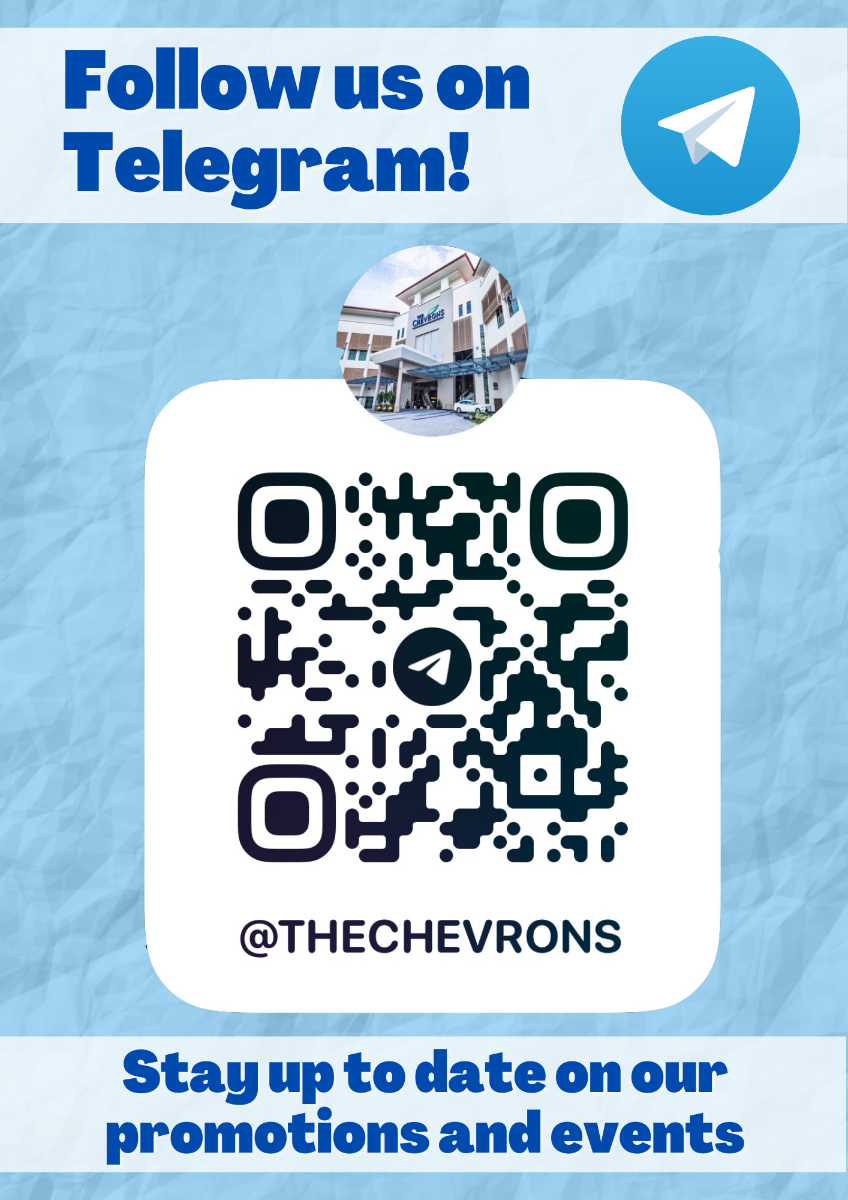 ---
THE CHEVRONS Members Portal and Facility Booking Site is now open!
Our members portal and facility booking site has officially launched!
The new and improved platform comes with the ability to check, book, and make payment for our bungalow and chalet online.
On top of that, THE CHEVRONS members will also receive their e-card after registering for an account. The latest members news can also be found at the portal!
Head to https://ebooking.chevrons.org.sg/login today and register for an account!
---
Annual Members Satisfaction Survey FY2022/23
THE CHEVRONS Annual Members Satisfaction Survey is now live.
Share your feedback with us and stand a chance to win attractive prizes in our survey lucky draw.
The annual survey will close on 31 March 2023. The survey can be found here: https://www.surveymonkey.com/r/TCAS2223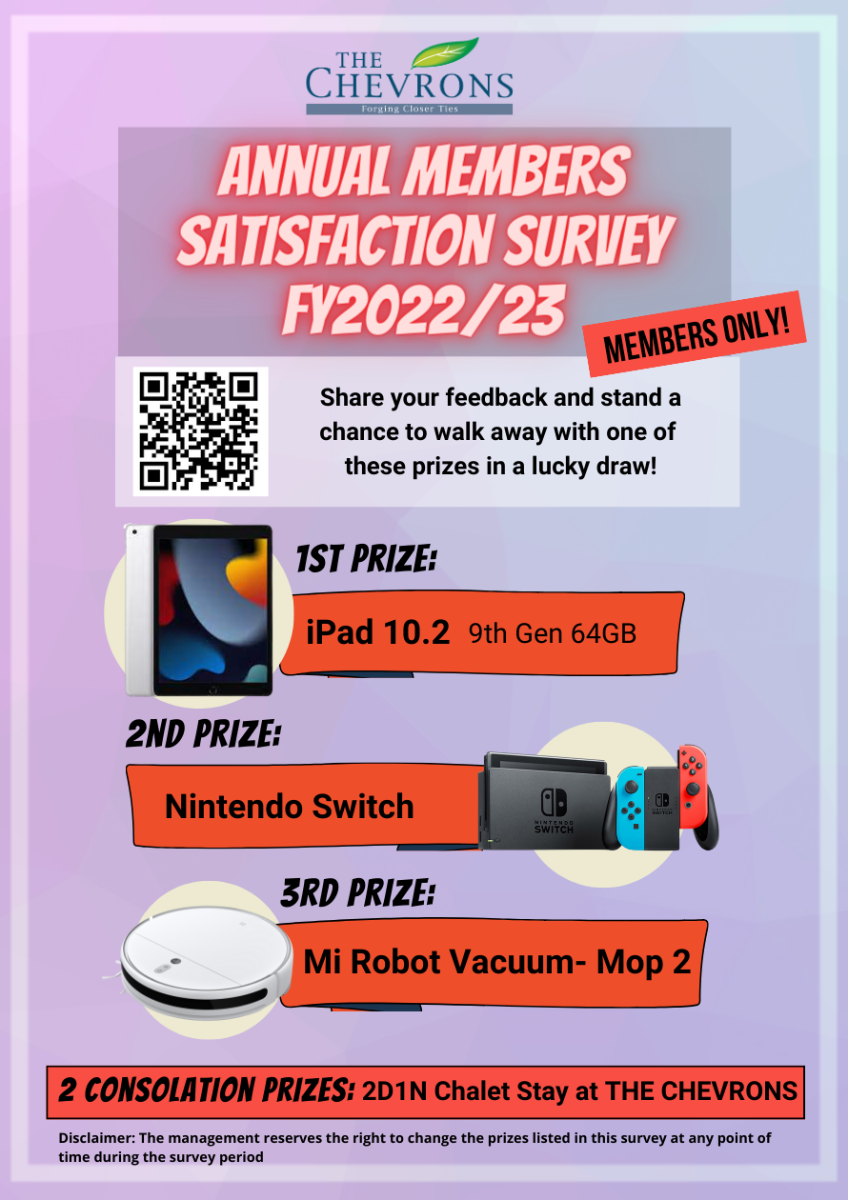 ---
Free Parking for THE CHEVRONS Members w.e.f. 1 August 2020
Please take note that with effect from 1 August 2020, members will be able to enjoy complimentary parking at THE CHEVRONS.
Members who wish to sign up for complimentary parking can fill out and submit a scanned copy of the Application Form for Concessionary Car Parking, or request for a copy and submit it at the Reception Office. Kindly allow 1 - 2 weeks of processing time for the complimentary parking request to be registered in our system.
---
Change in Shuttle Bus Pick-up/Drop-off Point
Please take note that with effect from 23 November, the shuttle bus pick-up/drop-off point will be as follows:
IMM (Bus Stop)
Venture Ave Bus Pick-up Point (Bay 3, near sheltered ramp)
For more information on the location of the pick-up/drop-off points, please click here.
The operating hours of our shuttle bus service are as follows:
Mon - Fri: 1000 - 2200 hrs
Sat & Sun: 0900 - 2200 hrs
---
Electric Vehicle (EV) Charging Station Available at Car Park B
Two electric vehicle (EV) charging stations are now available at Car Park B.
The EV charging stations are set up in collaboration with Greenlots SG.
For more details on the use of the EV charging stations, please visit the following link:
https://linktr.ee/thechevronsgreenlots
---
Opening of Boulder+ on 24 December 2021
Boulder+ is open to THE CHEVRONS members and the public from 24 December 2021.
Guests who wish to use the bouldering gym will have to purchase a pass via Boulder+'s website.
For any enquiries, please contact the Boulder+ team at [email protected]
About Boulder+
After much success with their first bouldering gym in Aperia Mall, the team at Boulder+ opened the biggest bouldering gym in Singapore at THE CHEVRONS.

Equipped with multiple climbing walls and various boulder problems of different difficulties, Boulder+ is open to all individuals aged 7 and above, with any level of fitness. The walls at the bouldering gym offer angles as low as 70 degrees for those who are looking for their next challenge.
Boulder+ @ THE CHEVRONS also features the Kilter Board, which allows climbers to set and climb boulder problems created by world-renowned climbers or climbing enthusiasts from other countries. This fixture has an adjustable height for climbers to bring their skills to the next level.

---
THE CHEVRONS is now Green Mark (Platinum) Certified!
THE CHEVRONS is proud to annouce that we have received the Green Mark (Platinum) Certification for our green initiatives in support of Singapore's Green Plan 2030!
We would like to thank the club staff and vendors for their participation in our green activities. We hope that this would encourage everyone to play a part to help achieve our nation's green plan.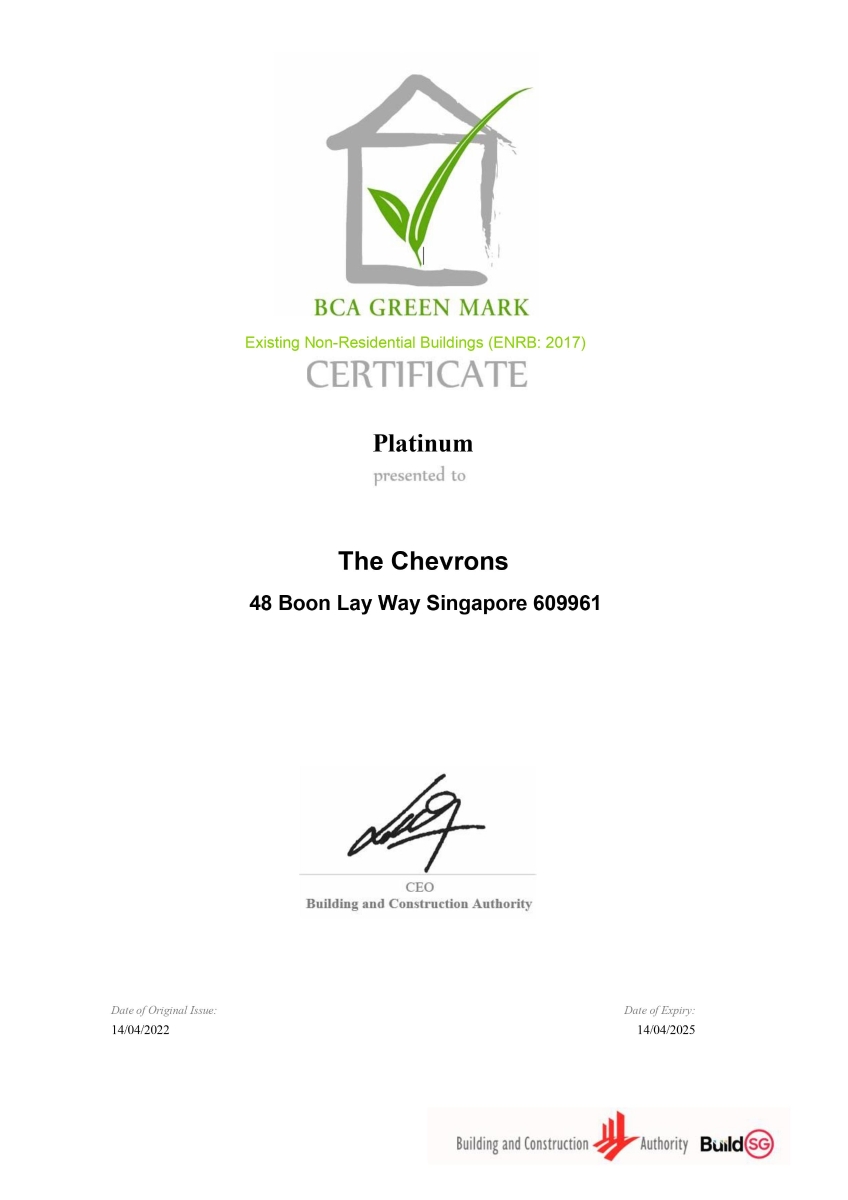 ---