Latest News
THE CHEVRONS Newsletter (Jan - Mar 2021)
Click on the link below to view the latest issue of THE CHEVRONS Newsletter (Apr - Jun 2021):
THE CHEVRONS Newsletter (Apr - Jun 2021)
---
Change in Gym Operator
Please take note that Atos Fitness Club has ceased operations at THE CHEVRONS w.e.f. 22 November, Sunday.
Extreme Fitness has taken over the facility, and they will operate a 24-hour gym from 5 December onwards.
The membership term of all existing Atos Fitness Club members will be extended during the period of closure, and AFC members can continue to patronise the facility when it reopens on 5 December.
THE CHEVRONS members will continue to have complimentary access to the new gym facility. Club members are required to proceed to the Reception office during their first visit to obtain a verification slip before accessing the gym.
Before accessing the facility for the first time, all gym users are required to perform a one-time facial recognition registration scan during office hours. From 5 December to 5 February, first-time gym users may visit the gym for registration from Mon - Sun (1200 - 2000 hrs). From 6 February onwards, visitors may drop by the gym from Mon - Fri (1200 - 2000 hrs) for registration.
For any enquiries, please contact the Extreme Fitness Ops Team at 8522 6746 or 9850 4792.
About Extreme Fitness
Extreme Fitness is a holistic gym operator that offers a wide range of fitness and lifestyle services such as customised training and coaching programmes for weight/fat loss, IPPT preparation programmes, post-injury management, nutrition planning and health seminars.
The new facility at THE CHEVRONS will be equipped with equipment such as functional training rigs, plate-loaded strength equipment, and many others. Visitors may also undergo a complimentary body composition analysis at the gym.
---
Change in Shuttle Bus Pick-up/Drop-off Point
Please take note that with effect from 23 November, the shuttle bus pick-up/drop-off point will be as follows:
IMM (Bus Stop)
Venture Ave Bus Pick-up Point (Bay 3, near sheltered ramp)
For more information on the location of the pick-up/drop-off points, please click here.
The operating hours of our shuttle bus service are as follows:
Mon - Fri: 1000 - 2200 hrs
Sat & Sun: 0900 - 2200 hrs
---
Space for Lease
The following spaces are available for rent at the clubhouse:
Co-working
Outdoor venues
Private Flexi-rooms
Ballroom
Event spaces
Training room
For further enquiries, kindly contact us [email protected], or call Irene (9276 5254).
---
Free Parking for THE CHEVRONS Members w.e.f. 1 August 2020
Please take note that with effect from 1 August 2020, members will be able to enjoy complimentary parking at THE CHEVRONS.
Members who wish to sign up for complimentary parking can fill out and submit a scanned copy of the Application Form for Concessionary Car Parking, or request for a copy and submit it at the Reception Office. Kindly allow 1 - 2 weeks of processing time for the complimentary parking request to be registered in our system.
---
Safe Reopening of Chalets and Bungalows
The club's chalet and bungalow units are now available for booking.
Members and the public may make bookings by calling our Reception office or sending an e-mail with the following details:
Full Name
Contact no.
E-mail Address
Type of Unit: Chalet/Bungalow
Check-in and Check-out Date
For enquiries, or to make a booking, kindly contact the Reception office at 6668 8896 / 8897, or send an e-mail to [email protected]
---
Members' Promotions - 13 Honey, The Forage Café
In collaboration with THE CHEVRONS, 13 Group is offering the following promotions to members of THE CHEVRONS:
$10 off total bill with a minimum purchase of $100 worth of 13 Honey products on https://13honey.sg/ (Quote "CHEV10OFF" during check-out to enjoy discount)
10% off total bill at The Forage Café (Flash membership e-card to enjoy offer)

This promotion is valid until further notice. Terms and conditions apply.
For enquiries, please contact:
13 Honey (Tel: 8798 9398)
The Forage Café (E-mail: [email protected]; Tel: 8869 7131)
---
THE CHEVRONS Annual Report FY 2019/20
Click on the link below to view THE CHEVRONS Annual Report FY 2019/20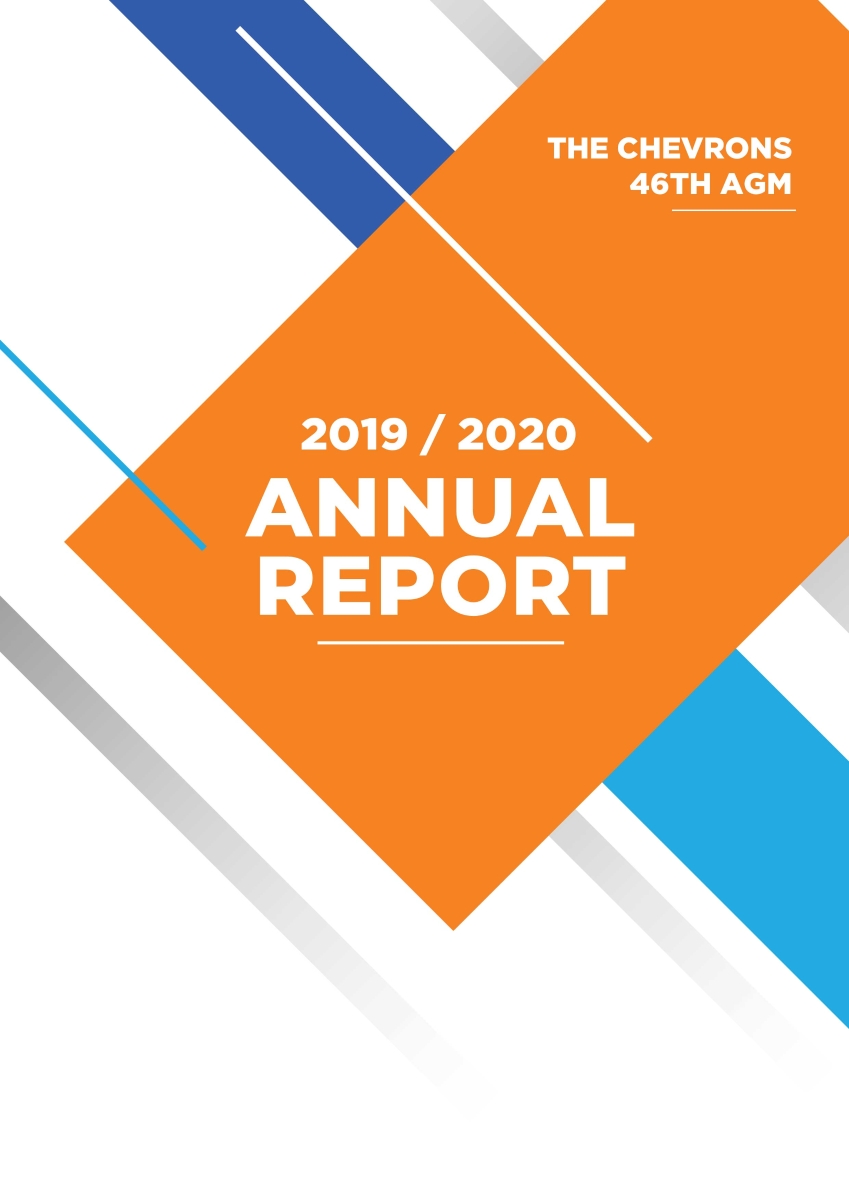 THE CHEVRONS Annual Report FY 2019/20
---
Update on Shuttle Bus Schedule
Please take note of the updated shuttle bus service schedule w.e.f 19 June 2020:
Monday to Friday: 1000 - 2230 hrs (30-minute interval)
Saturday & Sunday: 0900 - 2230 hrs (30-minute interval)
Note: There will not be any shuttle bus service at 1430hrs and 1930hrs.
---