Latest News
Updated COVID-19 Measures (as of 26 Apr 2022)
Following the latest updates on the COVID-19 measures, please take note of these measures that will be in effect at THE CHEVRONS from 26 April 2022 onwards, unless otherwise stated:
Mask Wearing
Mask wearing is required in THE CHEVRONS.
Poolside Café
The Poolside Café will be open for dining-in and takeaway.
Random spot-checks will continue to be conducted to ensure that only fully vaccinated persons are dining in at F&B establishments.
Operating hours: 8.30am - 10pm (Daily).
Last order will be at 9pm.
Call 6668 8905 or WhatsApp 8428 3695 to pre-order.
The Poolside Café is also available on delivery services (GrabFood and Deliveroo).
Events
Events with more than 500 pax will require SafeEntry check in
Swimming Pool
The swimming pool will be open daily from 9am - 9pm.
Shuttle Bus Service
The club's shuttle bus service schedule will be as follows:

Mon - Fri: 10am - 10pm (30-min interval)
Sat & Sun: 9am - 10pm (30-min interval)

Please take note that there will be no shuttle bus service at 1430hrs and 1930hrs. The shuttle bus service will resume at 1500hrs and 2000hrs respectively.
Facilities (Open)
The following facilities are operating as per normal:

Qi Xiang Hotpot (Open daily from 11am - 3am)
Rainforest & Savannah Lounge (Open daily from 3pm - 12am (last order at 11pm))
Gaming Room
Mint (Darts & Pool Room)
MADDspace
Poolside Barbecue pits (Guests can make a booking for the BBQ pit here.)
Aviary KTV (To make a booking, please call 6668 8840 or email f&[email protected])
*An individual is considered vaccinated if he/ she has been: a) fully vaccinated, i.e. has received the full regimen of Pfizer-BioNTech/Comirnatry, Moderna or WHO EUL vaccines, with an additional two weeks for the vaccine to be fully effective, b) recovered from COVID-19, or c) has obtained a negative result on a pre-event test taken in the past 24 hours before the expected end of the event. Random spot check for vaccination status will be done by our F&B staff.
---
THE CHEVRONS App is Moving
THE CHEVRONS app is no longer in use as we will be shifting to a new member portal with improved features!
In the meantime, members may use the following methods to make bookings or enjoy our member promotion:
Call our reception at 6668 8896 or email [email protected] to make a booking for our chalet or bungalows
Flash your 11b to verify your membership status
Stay tuned to our website and social media pages for updates on the upcoming members portal.
---
THE CHEVRONS is now Green Mark (Platinum) Certified!
THE CHEVRONS is proud to annouce that we have received the Green Mark (Platinum) Certification for our green initiatives in support of Singapore's Green Plan 2030!
We would like to thank the club staff and vendors for their participation in our green activities. We hope that this would encourage everyone to play a part to help achieve our nation's green plan.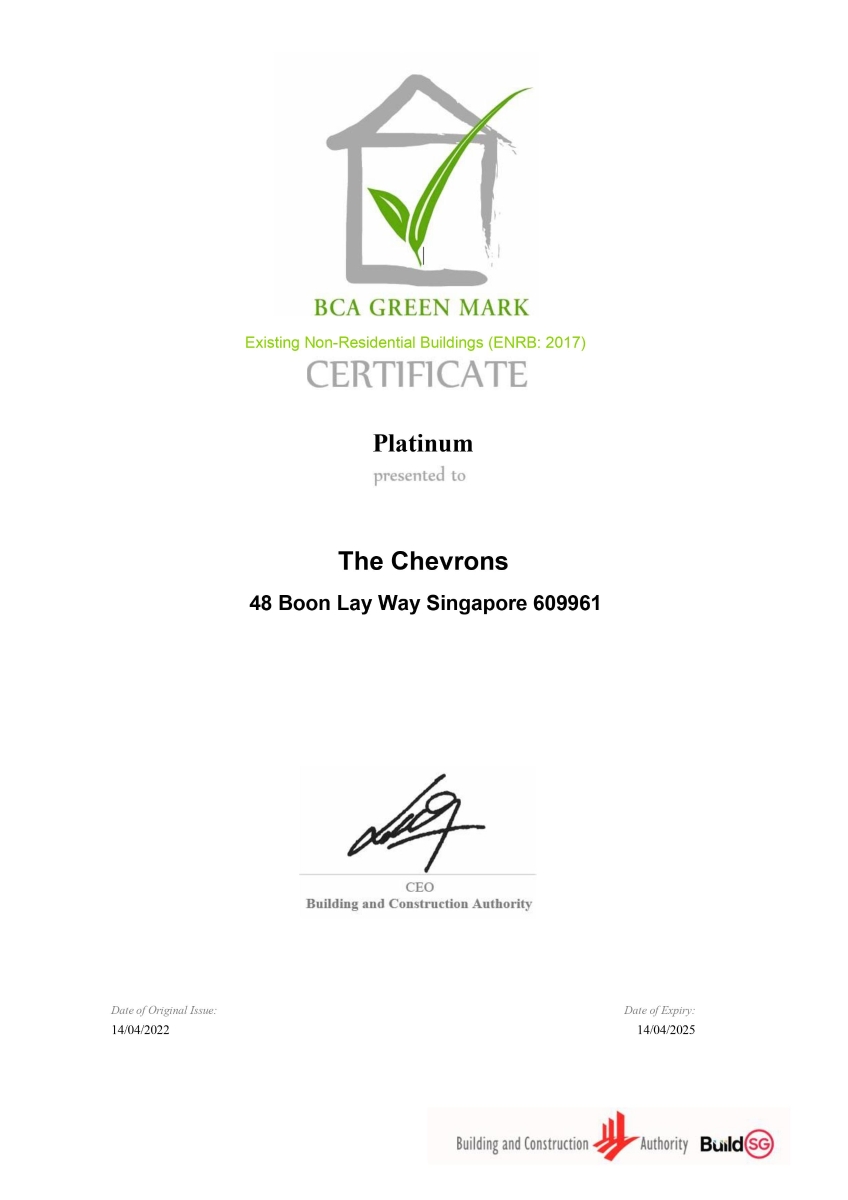 ---
Free Parking for THE CHEVRONS Members w.e.f. 1 August 2020
Please take note that with effect from 1 August 2020, members will be able to enjoy complimentary parking at THE CHEVRONS.
Members who wish to sign up for complimentary parking can fill out and submit a scanned copy of the Application Form for Concessionary Car Parking, or request for a copy and submit it at the Reception Office. Kindly allow 1 - 2 weeks of processing time for the complimentary parking request to be registered in our system.
---
THE CHEVRONS Newsletter (Apr - Jun 2022)
Click on the link below to view the latest issue of THE CHEVRONS Newsletter (Apr - Jun 2022):
THE CHEVRONS Newsletter (Apr - Jun 2022)
---
Change in Gym Operator
Please take note that Atos Fitness Club has ceased operations at THE CHEVRONS w.e.f. 22 November, Sunday.
Extreme Fitness has taken over the facility, and they will operate a 24-hour gym from 5 December onwards.
The membership term of all existing Atos Fitness Club members will be extended during the period of closure, and AFC members can continue to patronise the facility when it reopens on 5 December.
THE CHEVRONS members will continue to have complimentary access to the new gym facility. Club members are required to proceed to the Reception office during their first visit to obtain a verification slip before accessing the gym.
Before accessing the facility for the first time, all gym users are required to perform a one-time facial recognition registration scan during office hours. From 5 December to 5 February, first-time gym users may visit the gym for registration from Mon - Sun (1200 - 2000 hrs). From 6 February onwards, visitors may drop by the gym from Mon - Fri (1200 - 2000 hrs) for registration.
For any enquiries, please contact the Extreme Fitness Ops Team at 8522 6746 or 9850 4792.
About Extreme Fitness
Extreme Fitness is a holistic gym operator that offers a wide range of fitness and lifestyle services such as customised training and coaching programmes for weight/fat loss, IPPT preparation programmes, post-injury management, nutrition planning and health seminars.
The new facility at THE CHEVRONS will be equipped with equipment such as functional training rigs, plate-loaded strength equipment, and many others. Visitors may also undergo a complimentary body composition analysis at the gym.
---
Members' Promotions - 13 Honey, The Forage Café
In collaboration with THE CHEVRONS, 13 Group is offering the following promotions to members of THE CHEVRONS:
$10 off total bill with a minimum purchase of $100 worth of 13 Honey products on https://13honey.sg/ (Quote "CHEV10OFF" during check-out to enjoy discount)
10% off total bill at The Forage Café (Flash membership e-card to enjoy offer)

This promotion is valid until further notice. Terms and conditions apply.
For enquiries, please contact:
13 Honey (Tel: 8798 9398)
The Forage Café (E-mail: [email protected]; Tel: 8869 7131)
---
THE CHEVRONS Annual Report FY 2020/21
Click on the link below to view THE CHEVRONS Annual Report FY 2019/20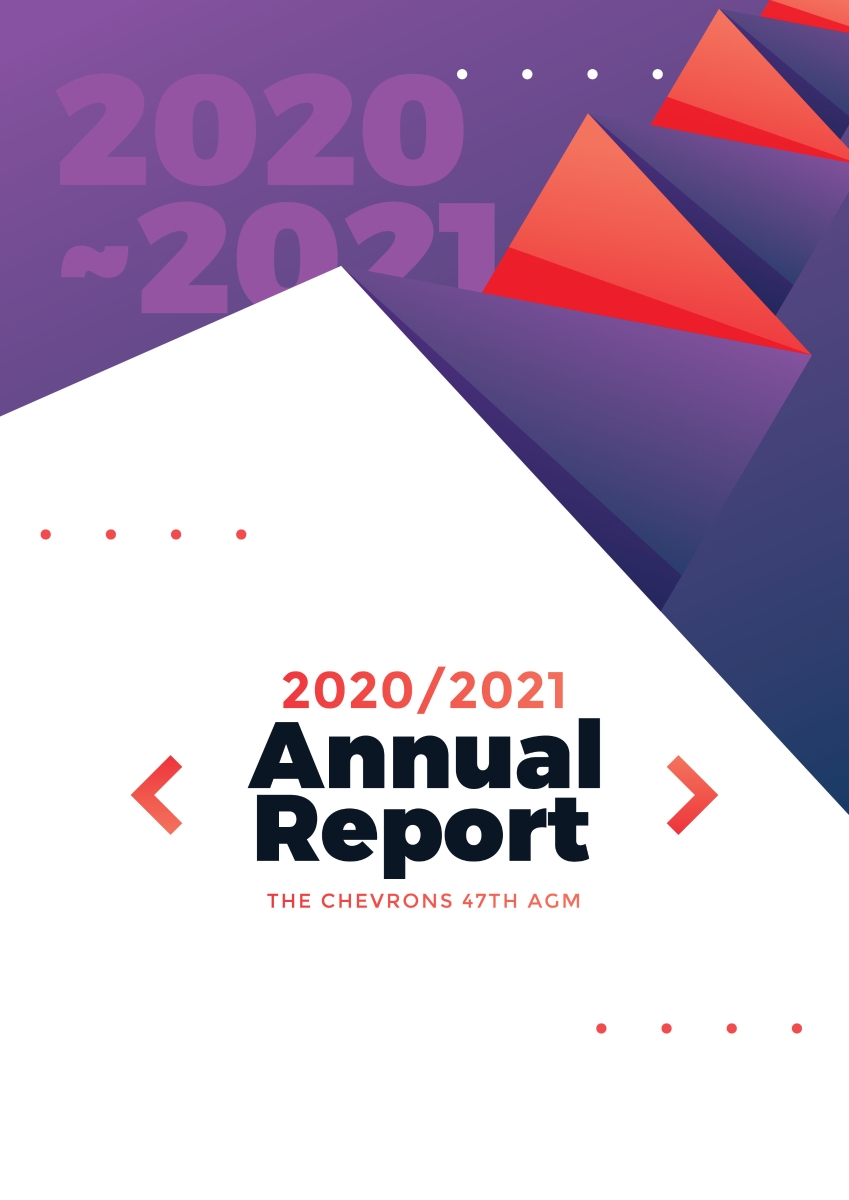 THE CHEVRONS Annual Report FY 2020/21
---
Change in Shuttle Bus Pick-up/Drop-off Point
Please take note that with effect from 23 November, the shuttle bus pick-up/drop-off point will be as follows:
IMM (Bus Stop)
Venture Ave Bus Pick-up Point (Bay 3, near sheltered ramp)
For more information on the location of the pick-up/drop-off points, please click here.
The operating hours of our shuttle bus service are as follows:
Mon - Fri: 1000 - 2200 hrs
Sat & Sun: 0900 - 2200 hrs
---
Electric Vehicle (EV) Charging Station Available at Car Park B
Two electric vehicle (EV) charging stations are now available at Car Park B.
The EV charging stations are set up in collaboration with Greenlots SG.
For more details on the use of the EV charging stations, please visit the following link:
https://linktr.ee/thechevronsgreenlots
---
Opening of Boulder+ on 24 December 2021
Boulder+ is open to THE CHEVRONS members and the public from 24 December 2021.
Guests who wish to use the bouldering gym will have to purchase a pass via Boulder+'s website.
For any enquiries, please contact the Boulder+ team at [email protected]
About Boulder+
After much success with their first bouldering gym in Aperia Mall, the team at Boulder+ opened the biggest bouldering gym in Singapore at THE CHEVRONS.

Equipped with multiple climbing walls and various boulder problems of different difficulties, Boulder+ is open to all individuals aged 7 and above, with any level of fitness. The walls at the bouldering gym offer angles as low as 70 degrees for those who are looking for their next challenge.
Boulder+ @ THE CHEVRONS also features the Kilter Board, which allows climbers to set and climb boulder problems created by world-renowned climbers or climbing enthusiasts from other countries. This fixture has an adjustable height for climbers to bring their skills to the next level.

---